Get ready for work while in school
VET can help you make a head start towards your career while you are still in high school. A school-based apprenticeship or traineeship gives you a way to achieve this.
Earn while you learn
You'll earn a wage with an employer, train on and off the job, and work towards an accredited qualification while undertaking your South Australian Certificate of Education (SACE).

Some special rules
Before you can be signed up for a school-based apprenticeships and traineeships, your school must first agree it will form part of your school program and SACE attainment.
Can you take part?
If you're in years 10, 11 or 12, you can do a school-based apprenticeship or traineeship as part of your SACE, if your school gives their approval.
If you are looking to explore an apprenticeship or traineeship that is not school-based, speak with the us and we'll walk you through your options.
Find the right option
What do you enjoy doing?
What are you passionate about?
Do you have hobbies or interests that could grow into an occupation?
The answers to these kinds of questions provide an excellent starting point for finding the apprenticeship or traineeship that's going to be right for you.
Get the best guidance
Thinking about completing an apprenticeship or traineeship as part of your SACE? Discuss this with a parent or guardian and decide together if it's the right pathway to achieve your goals.
Next, speak with your school's VET coordinator or career counsellor about the industry you would like to complete your apprenticeship or traineeship in. They can:
help you explore VET courses
connect with employers and
make sure that your SACE requirements will be met
Check your SACE points
Search the VET Recognition Register for a clear idea how your apprenticeship or traineeship will count towards your points for SACE.
Make sure everyone agrees
To participate in an apprenticeship or traineeship you'll need agreement from your school, and a parent or guardian if you're under 18.
Explore training courses
You'll need to do an off-the-job training course with a training provider as part of your apprenticeship or traineeship.
Let your employer know if you have a specific training provider in mind.

Discover courses and training that can provide you with the qualification you need to succeed in the area that most interests you.
You can do any course on our search, but only some are subsided as part of our VET for School Students program.
Find your employer
There are 2 ways that you can go about finding an employer to take you on as an apprentice or trainee.
1. Find an employer yourself
Speak with friends, family or local businesses and do some online research.
Ask your VET coordinator or any training providers you speak with if they know of employers looking for apprentices or trainees.
Search the Register of Approved Employers – Apprenticeships and Traineeships by business name or industry.
If you decide to seek out an employer yourself, your employer will need to be registered with us. To learn more, contact the Skills Infoline or connect them with information to get registered.
2. Ask a Group Training Organisation to find you a host employer
Signing up with a Group Training Organisation (GTO) gives you the opportunity to work somewhere without that place needing to directly employ you. This is often called a host arrangement and it means you are employed by the GTO and contracted out to a business.
Your Training Contract
It's time to develop your Training Contract.
Your Training Contract is the formal agreement made between you and your employer that sets out important information about your apprenticeship or traineeship.
You and your chosen employer will now speak with an Apprenticeship Network Provider (ANP) who will manage the whole process. They will seek your school's agreement for you to enter into a school-based Training Contract.
Your Training Contract will do a number of important things — including setting out your chosen training provider.
There are some other steps after this, but the important thing is, as soon as your Training Contract is signed, you can start your apprenticeship or traineeship.

Your Training Plan
Once your training provider agrees to train you, they will develop your Training Plan with you and your employer.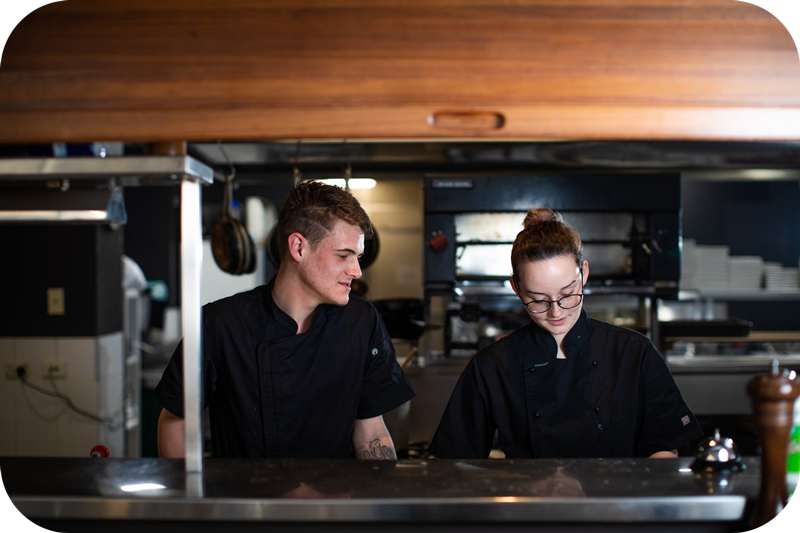 During your apprenticeship or traineeship
Where will you be?
As a school-based apprentice or trainee, you will attend school for part of your school-week.
You'll work with your employer on-the-job, and study with your training provider off-the job, for the rest of your school-week.

Your wages
Your wages are usually set by an industry award that sets your pay rates, conditions and other rights and entitlements. Some employers may have an enterprise agreement.
You may even be able to earn more money as you achieve new competencies as agreed by your employer.
Learn more about wages, allowances and conditions.

After school
Once you finish school, if you have yet to complete your apprenticeship or traineeship, it will become full-time or continue part-time depending on what you choose to do and what your employer agrees to.
Let us know what hours you'll be working by completing a change of hours form.